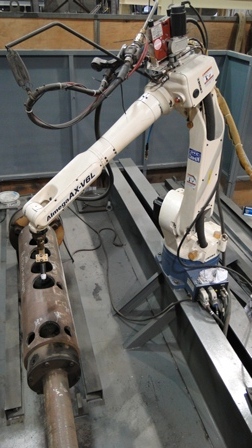 6-Axis Robotic Welding and Cutting
BWFS Industries LLC most recent addition to the welding shop is our robotic welder. For certain high production parts, labor can be reduced by as much as 70%-80%. The robotic welder can cut using high definition plasma as well as weld using both GMAW and FCAW welding processes. This machine utilizes 6 different axis of movement along with an independent 3-jaw chuck that can index 360 degrees.
To help ensure high productivity, two separate stations are situated so that one station can be active with the robot operation while an operator can be working in the adjacent station changing or setting up parts. So if you have a large quantity of small to medium size components that require welding or cutting, give us a call.
Contact BWFS Industries LLC today!
BWFS INDUSTRIES LLC
5637 ETHELINE
HOUSTON, TX 77039
Phone 281-590-9391 Fax 281-449-8563